Retrouvez tous les concerts et tous les tarifs sur notre billetterie en ligne. Achetez vos places en ligne, c'est encore plus simple !
Florentine Mulsant (compositrice), Olivier Charlier (violoniste), Pierre Bertrand (saxophoniste) et le Nice Jazz Orchestra seront les invités de l'édition 2016.
Situé dans le canton de Fayence, le village médiéval de Callian accueille le festival depuis 14 ans.
2016 Edition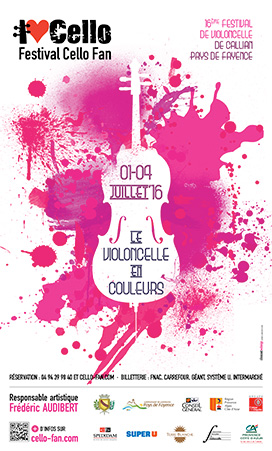 Under Frédéric Audibert artistic direction, the 16th edition of the Callian festival will take place from the 1st to the 4th of July 2016.
Musicians of the Festival
The Cello fan festival is dedicated to classical, baroque and contemporary music. It gathers high class performers that are really well known or sometimes not yet recognized by the public. The original nucleus of cellists will be there. About thirty more performers from all horizons. A musical, big international community will lay its bows a one time week-end.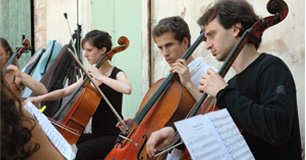 All the musicians

Cello Fan Project
Founded in 1996, the association organizes the festival. The founder Frederic Audibert, was motivated by the desire to organize artistic activities, concerts of students or school-based interventions… Read More
Programme
Pique-nique avec les musiciens
Parc du château Goerg
13:00
Orchestre éphèmère du pays de fayence
Parc du château Goerg
17:30
De Rossini à Florentine Mulsant
Église de Callian
21:00
Schubert Intime
Église de Callian
20:30
Tous les concerts

Discover the country of Fayence
The festival takes place in the breathtaking settings of Callian and Mons, medieval villages to the district of Fayence. Surrounded by many other villages that are to be discovered in between two concerts… Read More